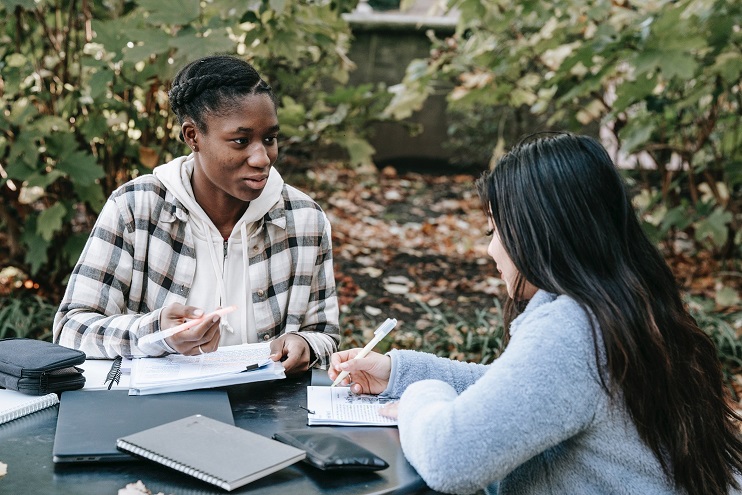 College Connection
The fall semester is underway and the campus is alive with students! At the end of the spring semester, SRJC outlined a plan to safely return students and faculty to campus, and that plan is coming to fruition with 66% of classes being offered in person and nearly 100% of services returning to campus. With so many students, faculty, and staff returning to campus, safety is still a primary concern and the College has the campus COVID-19 precautions outlined for visitors, students, and staff alike at https://covid.santarosa.edu/. We are excited to see students returning and to share a few updates on what's happening on campus with our community of alumni and friends.
SRJC Alumni Spotlight: Tim O'Connell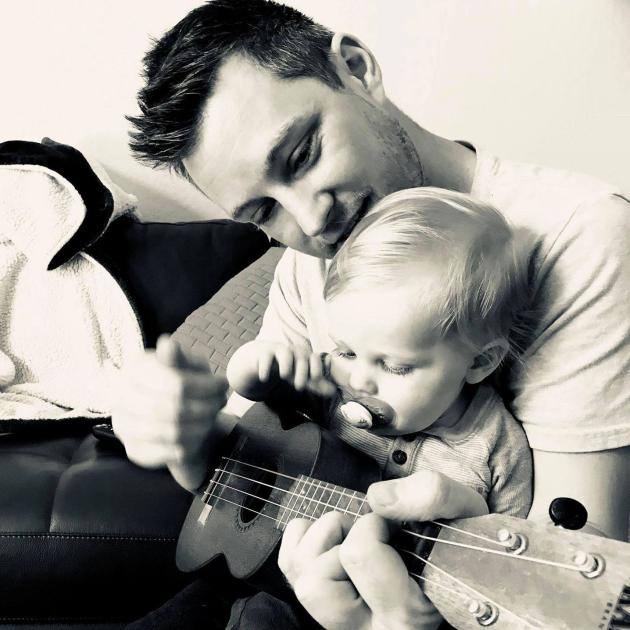 Sonoma County native and SRJC Alumnus Tim O'Connell is an art and design authority in the tech industry who has held leadership roles at some of the most innovative companies in the industry like Facebook and Google. Tim puts his experience to good use when he isn't working by setting aside time nearly every evening to mentor up-and-coming design talent and freshly-graduated art students looking for career direction.
Tim attended SRJC from 2001- 2003 and graduated with an Associate in Arts, after which he earned a Bachelor's degree at San Francisco State and moved on to earn his Master's Degree from the Academy of Art in San Francisco. Since then, he's been focused on helping shape the future in the world of tech advertising, visualization, and brand identity. He credits his SRJC art classes with helping shape his own future because the art classes at SRJC challenged him and helped him build his fundamentals in painting and illustration. He's also thankful for the scholarships he was able to use that made it easier for him to find his passion while attending SRJC. He said, "Because I had the Doyle Scholarship, I was able to really explore what I was passionate about, which landed me in the world of art and design."  
When asked about his most memorable times at SRJC, Tim reminisced about his Anthropology class with Adjunct Professor Dr. Milner-Rose. Tim recalled his time in class by saying, "Dr. Milner-Rose would tell stories about her time researching the homeless population in the Tenderloin of San Francisco. It was so fascinating that it kept the whole class on the edge of their seats!"
Along with his colleagues, Tim has won multiple awards for his work including an Addy (The Emmy Awards for advertising). One of his more publicly recognizable works was a series of commercials and advertising done in collaboration with the Monterey Bay Aquarium and the San Francisco Giants.
Now, Tim lives in East Bay Area with his wife Renee and their two children. He's currently the Senior Art Director on the brand team of a startup that's getting ready to launch innovative new software for the restaurant industry. He's looking forward to the public reveal of his company and is very excited about watching the San Jose Sharks play another season of hockey.
To learn more about the art and design programs currently offered at SRJC, visit art.santarosa.edu. Consider giving to support current art and design students!
If you would like to be featured or know someone who would like to be featured in our next alumni spotlight, please email rcampos@santarosa.edu
Campus Updates: New Student Housing and STEM buildings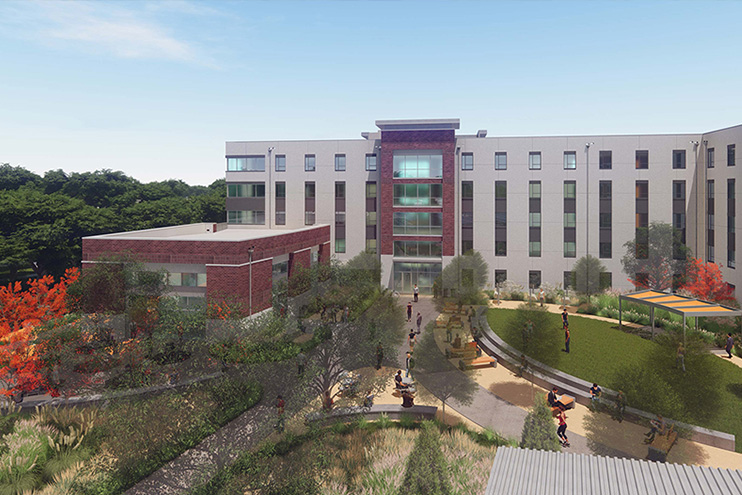 Now that students are returning to campus, they will notice significant progress on many of the new buildings that have been under construction.
One of the biggest projects visible from Highway101 is the new Affordable Student Housing building, located at the southeast corner of Elliott Avenue and Armory Drive. The new Student Housing building is being constructed with sustainability in both physical structure and through its planned operational efficiencies. The new 95,218 square-foot building will open in Fall 2023 and provide new safe, below-market rate accommodations for approximately 352 students and will create a vibrant center of student life on campus. Naming opportunities for the new Student Housing building are still available at: https://foundation.santarosa.edu/naming-opportunities
The Lindley Center for STEM Education is also under construction and making significant progress. The new state-of-the-art STEM facility was carefully planned with the vision to achieve the mission of SRJC and to provide cutting-edge educational experiences for STEM students. The three-story, 92,000-square-foot building will provide critically needed laboratory facilities, design and innovation spaces, and contemporary classrooms, which are essential for 21st-century teaching and learning. The SRJC Foundation is hosting hard hat tours of the new STEM building for donors interested in naming opportunities this fall. To register for a tour, visit https://foundation.santarosa.edu/stemtour. Learn more about naming opportunities for the STEM and Student Housing building at: https://foundation.santarosa.edu/naming-opportunities
Roar Back, Bear Cubs
Did you know you are considered SRJC Alumni after completing just one class?! We are currently working on finding the best way to identify SRJC Alumni and we are collaborating with campus and community partners to offer valuable benefits for our Bear Cub family. What is important to you in an alumni program? We want to hear your input, requests, and stories! Contact Rudy Campos at rcampos@santarosa.edu or 707.527.4872 to share your great ideas, experiences, and support for the future of alumni relations at SRJC.
Building a Legacy, Brick by Brick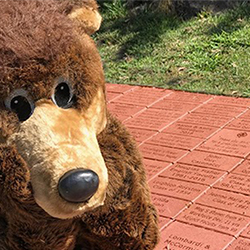 Would you like to honor your favorite person or memory from SRJC in an extra special way? The SRJC Foundation is offering personalized engraved bricks on campus that allow you to share your special message while also supporting students and programs with your purchase. The commemorative bricks are located in the quad on the Santa Rosa campus and installations are made every spring.
Commemorative Bricks can be engraved with names, class year, short sayings, special messages, honor a favorite teacher, memorial commemorations, business names, or more. Be imaginative! This is an opportunity to not only give back to your alma mater but to create something special that you, your children, grandchildren and beyond will be able to appreciate while visiting the campus. To reserve your commemorative brick go to foundation.santarosa.edu/bricks